Do most Filipinos play mahjongg? Is that still a favorite pasttime in the Philippines?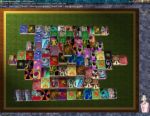 I grew up watching adults play mahjongg all weekend long…sometimes for 48 hours straight.
Posted by: Sarimanok

Mahjong has a long history in the Philippines
Mahjong has a long history in the Philippines, where it has been a popular pastime for many years. The game was introduced to the country in the early 20th century and quickly gained popularity among various social classes. It is not uncommon to see people from different backgrounds and age groups playing Mahjong in the Philippines.
Although it is challenging to determine the exact proportion of Filipinos who play Mahjong, it is clear that the game holds a special place in Filipino culture. Mahjong is often played during social gatherings, family reunions, and special occasions, such as birthdays or holidays. The game serves not only as a form of entertainment but also as a way to connect and bond with friends, family, and community members.
In the Philippines, Mahjong is typically played with a few variations from the standard Chinese rules. One of the most common adaptations is the use of the "Filipino Mahjong" scoring system, which assigns different point values to specific tile combinations. This scoring system, along with other local variations, adds a unique flavor to the game and contributes to its enduring appeal among Filipino players.
Despite the popularity of Mahjong, it is important to note that the Philippines is a diverse country with a rich and varied cultural landscape. As such, the popularity of Mahjong may vary depending on factors such as geographic location, age group, and personal preferences. While Mahjong may be a favorite pastime for many, it is not necessarily the case for all Filipinos.
In recent years, the rise of digital technology and the internet has introduced new forms of entertainment, which may have influenced the popularity of traditional pastimes like Mahjong. The younger generation, in particular, might be more inclined to engage in online gaming, social media, and other digital forms of entertainment rather than participating in traditional games like Mahjong.
However, Mahjong's popularity as a social activity and its connection to Filipino culture ensure that it remains a cherished pastime for many. The game's ability to bring people together, foster camaraderie, and provide a shared cultural experience make it a valuable aspect of Filipino life.
In conclusion, while it is difficult to quantify the exact number of Filipinos who play Mahjong, there is no doubt that the game has been and continues to be a popular pastime in the Philippines. Its long-standing presence in Filipino culture, its role in fostering social connections, and its unique local variations contribute to its enduring appeal. Although the advent of digital technology and changing preferences among younger generations may have influenced the popularity of traditional games like Mahjong, the game remains an important part of the Filipino cultural fabric, cherished by many as a means of connection and enjoyment.