KONG GAMING IS NOW CLOSED
Summary – Kong Gaming
New online 2009, Kong88.com specialises in Multiplayer Asian Games and offers Mahjong plus a range of popular Poker variants. Their software has fantastic user-friendly player features and gorgeous graphics.  Each game is available in Ring Game or in a wide variety of tournament formats (Collapsible, Multi-Stage and Sit n Go).  Freeroll Mahjong tournaments run several times daily.
Note: Kong88.com does not accept cash players from the US or Canada.
Mahjong Games at Kong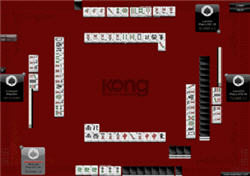 You can play for fun (no cash & prizes) for FREE or you can pay to participate in tournaments and win cash and prizes!
Multi-player gaming
Chat and play with people from around the world.
Choose who you play against.
You can create a game and challenge others, or join an open game.
Players get ratings depending on their results.
Tournaments & League
Hosted Tournaments: Kong88.com hosts a number of tournaments daily that award Cash and Prizes to winners. Entry fees start at $5.50 and Players can win prizes starting at $30.00 and increasing depending on their entry fee and the number of players who enter a tournament.
Multi-Stage Tournaments: A multi-stage tournament is a tournament in which players buy-in in rounds, and compete to get to the next round. The winner(s) of each round are given entry in to the following round by way of direct entry or treasure. Multi-Stage tournaments operate as multiple single table tournaments where the winner moves on to the next round. Players begin with an equal stack of chips at the first table. Play continues until each player loses all of their chips. As each player is eliminated they are removed from the tournament and play continues among the remaining players. Play continues until there is only one player remaining who controls all the chips. This winner (and in certain cases second, third and even fourth place) are awarded entry into the next round or are awarded treasure. The winner(s) can then buy into the next round, and continue their way towards overall victory.
"Sit-and-Go" Tournaments:  2-10 players starts immediately after the required number of players for that particular tournament is satisfied. Each player begins the tournament with the exact same amount of chips. Play continues until one player has all of the chips. In Mahjong play may end due to a maximum number of hands played or a time limit. Please see the tournament lobby for details. When this occurs the prizes are awarded according to the prize payout for that particular tournament.
Mini Tournaments – create your own tournament and decide the entry fees. The winner will win the entry fees minus a small portion as our fee in exchange of providing the platform.
League tournaments – exclusive to league members.
Mahjong Game Versions
Kong Mahjong games use the Hong Kong rule set.
 Software & Website Features
Kong88.com is an English or Chinese (Traditional and Simplified) language site which runs with US Dollars.
Kong88.com uses proprietary software, produced by Las Vegas From Home, with fantastic user-friendly player features and gorgeous graphics.
A software download is required.
Easy-to-use lobby & menus.
Big, clear game tables.
Chat and community features:
Kong88.com has a friendly community atmosphere.
The software includes private message facility. Players can chat with one another during the game.
There's an online tutorial to help you get started and learn how to play.
They are frequently upgrading the software, ensuring it's the best available.
Kong Gaming Bonuses & Promos
Promos vary, but when we looked they had these running:
100% First Deposit Bonus: Kong Gaming will give you a 100% deposit bonus, up to $1000!
Freerolls: Kong88 offers freeroll tournaments every day. You get all the fun an excitement of real money tournaments of all your favorite games like Texas Hold'em, Omaha, Big2 and Mahjong and they cover the buy-in!
Kong Points: For every hand you play: win, lose or draw, you will earn valuable Kong Points which count towards the leaderboard and can be used towards buy-ins for exclusive tournaments.
Management & Customer Services
Kong88.com was founded in early 2008, and launched early 2009.
HQ in Vancouver, Canada.
Live help in the games suite or via email.
Or there are detailed help files online.
Kong88.com provides a secure, online multi-player environment and holds a gaming license from the Kahnawake Gaming Reserve, which regulates and controls gaming related activity within the Mohawk Territory of Kahnawake, to the highest levels of honesty and integrity.
Money & Banking
The site runs in US$
Deposit using Moneybookers, Visa/Mastercard, 1-Pay, Clicks2Pay and Neteller.
KONG GAMING IS NOW CLOSED