GAME FIESTA IS NOW CLOSED
Summary – Game Fiesta
Game Fiesta have 10 different mind boggling Mahjong based games to download for Free. Pay a fee to upgrade to the full version. Or join ClubFiesta subscription and you get a free game each month plus all sorts of extras.
NB Game Fiesta is not open to customers in the USA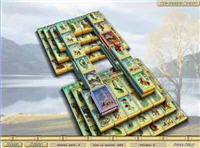 Game Fiesta Mahjong
Game Fiesta have no less than 10 Mahjong games to choose from. Here are their descriptions of them:
Mahjong The Endless Journey
Embark on a never-ending journey of brain-bending fun in this remarkable version of the ancient puzzler. Featuring amazing 3D effects, hundreds of secrets to uncover, and more than 500 tile layouts.
Mahjomino
Mahjomino blends the challenge of Mahjong and Dominoes into a unique two-sided mahjong game. For the past decade, archeologist William McEndri has dedicated his life to uncovering the secret whereabouts of twelve ancient artifacts that could prove the existence of the lost city of Atlantis. The time has come for his daughter Helen to carry on his adventure. Journey with Helen into the unknown in this truly exciting Mahjong experience.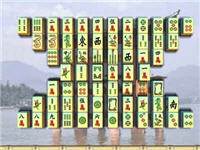 Mahjong: Journey of Enlightenment
Play strategically through mahjong games, each one harder than the last as you continue on your journey. Along the way you can unlock over 550 hidden items; the more you unlock, the more varied and interesting your mahjong journeys become!
Caribbean MahJong
Take a fabulous Luxury Cruise and visit 12 exotic islands while collecting attractive keepsakes and quirky postcards. Or be footloose and fancy free, and Island Hop to any layout with no commitments. No matter how you tailor your island experience, it will be a luscious treat for your eyes! Tile layouts range from easy, to multi-layered monstrosities of 15 layers! But you can breeze through them with powerups like Trade Winds, and use the unique Tile Focusing feature to find matches quickly.
Mahjong Towers Holiday 2005
This festive version of mahjong will delight even non-mahjong lovers. Break out the eggnog, throw a log in the fire and settle in for some real mahjong fun! Choose from 3 play modes. Create tile sets & backdrops. Make layouts that can be shared with others.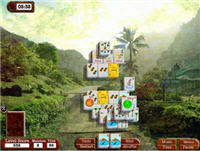 Mah Jong Adventures
Your eccentric uncle's greatest treasure awaits you at the end of this globe spanning adventure. Use his humorous journal to locate gold tiles with the grace and swiftness of a Canadian Mountie! Your adventure spans 18 engaging destinations and immerses you in the local culture through unique tile-sets and backgrounds.
Mah Jong Medley
Choose from over 300 layouts, all distinctly original, ranging from super easy to extremely challenging. 4 game modes to choose from: Classic mode allows you to play like you've always played Mah Jong Solitaire. In Ten mode, the object is to select tile pairs that add up to ten. In Freecell mode, you can move up to two tiles out of the way into a special "reserve" area. And in Addiction mode, rearrange the tiles in numerical order.
Mahjong Towers Eternity
Choose from three play modes, make your own tile sets, create boards that can be shared with others, and chat with players using in-game messaging.
Mahjong Quest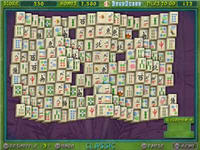 More than an addictive puzzle game – this is an original cinematic experience. The classic game of Mahjong has been given a new twist with Mahjong Quest. After dragons wreak havoc over the empire, young Kwazi must use an ancient set of Mahjong tiles to restore balance. Journey through twelve different lands with the help of spirit guides and special tiles to restore peace. Mahjong quest also includes two other game modes. Classic has over eighty layouts. Puzzle mode adds a brainteaser element to the Mahjong style.
Super Mah Jong Solitaire
3,000 years old and better than ever! Super Mah Jong Solitaire is loaded with features to make one of the most popular games in history even more fun to play. Simply match tiles in pairs to eliminate them from the board. But be careful, remove the wrong tile and be stuck without a move.
Gaming Software & Website Features
Game Fiesta provides a huge variety of games to download and demo for free. If you like them you can pay to upgrade to the full versions.
They've got over 100 great games in their portfolio: card games, puzzle games, arcade, crosswords, classics, brain games, word games, and solitaire including, solitaire spider and klondike just to name a couple. They've even got jig-saw puzzles, crosswords, screen savers, Las Vegas casino style slots, roulette, blackjack, poker and more.
The games are a mix of their own software developments and games they have licensed from other developers.
Community features:

Members write game reviews
Messaging system
Game Fiesta Bonuses & Promos
Bonuses change over time so check out the latest, but when we looked they had these:
ClubFiesta: is a monthly subscription service from GameFiesta. Monthly fee $9.95. Or commit to longer than 1 month and you get discount on the subscription. For that you receive the following;

Every month you can choose a FREE full version game.
Bonus loyalty points (5x the normal level) to cash in for free games. 25 loyalty points will get you a game.
Live customer service support.
Game tips and hints, a weekly newsletter on the latest games and access to new release games before anyone else.
Get unlimited usage of all the Web Games.

Loyalty points: Loyalty points for verifying your email address, for every game you purchase, for every friend you refer who becomes a ClubFiesta member, or for redeeming select coupons. 25 points gets you a free game.
Refer a Friend: 10 Loyalty points each time that your friend buys a game. Free full version game for every friend that joins ClubFiesta.
Management & Customer Services
Game Fiesta is a Canadian company.
Operating online since 2004.
Live Help is available to ClubFiesta Members.
Customer support also available via online contact form.
Money & Banking
Game Fiesta operates in US$
You can purchase using credit card, cheque or money order.
 GAME FIESTA IS NOW CLOSED