Unfortunately Game Bonus is now Closed
Summary – Game Bonus
At Game Bonus you can play a range of  Mahjong Solitaire tournaments for cash or Free bonus points, which can be exchanged for prizes.  It's a straightforward site that requires no download.
Note: GameBonus does not accept cash players from some US states.
Game Bonus Mahjong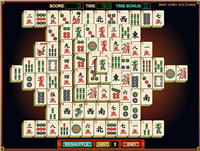 GameBonus offer a single player Mahjong game in various tournament formats.
Mah Jong Solitaire
You'll find this game in the 'Strategy Games' section.
Remove all tiles on board by clicking on matching tiles in pairs.
Your score will based on a combination of matches you've made and a time-based bonus ranging from 1-10, based on how fast you make consecutive matches.
You may choose to use the two Hint indicators for 10 point deduction.
Should you decide to reshuffle all remaining tiles, it will deduct 50 Points from your score
Mahjong Tournaments
Using the basic game above, you can choose between;
2-player Mah Jong Solitaire
Daily Progressive Mah Jong Solitaire
Weekly Progressive Mah Jong Solitaire
Cash Tournament Mahjong Solitaire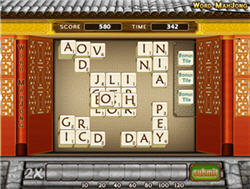 Word Mah Jong
GameBonus also have Word Mah Jong.
Well it's not really mahjong at all, but if you fancy a change it might be worth a try.
The tiles have letters instead of the usual symbols. Select them to spell words of 2-9 letters in length and gain points.
You'll find this game in the 'Word Games' section.
Game Software & Website Features
GameBonus use their own proprietary software, which does not require a download.
Their range of games includes card games, word games, strategy games and arcade games.
They offer single and head 2 head games. Single games are designed so that you can enter a tournament and compete against other players whenever you want to.Head 2 Head games allow players to play simultaneously in real time.
You can play free for Bonus Points or for cash.

Bonus Points Play: Players compete against each other in head-to-head contests and multi-player tournaments to be rewarded with Bonu$ Points. These are then traded for game credits or merchandise.
Cash Play: We offer tournaments where you can win real prizes for our Points Plus and Premier Players.

Ratings: To ensure that players are matched with opponents that have similar skill levels as themselves, Game Bonus employs a Skill Rating System.
Tournaments: There are four different types of Tournaments available on Game Bonus:

Limited Entry Tournaments –  feature 2-25 players per game and require an entry fee to participate. When the last participant finishes the game, the winner is declared and prize money given out.
Progressive Tournaments – stay open until a pre-set end time. Each entry will increase the amount of the Prize Pot.
Cash Pot Tournaments – There is no limit on how many people can participate but the Cash Pot remains fixed.
H2H – go head-to-head with players at your convenience. You have the option of deciding who to play and when.

Community Features: 

Create player profiles, including avatars.
League of top scorers.
Game Bonus Bonuses & Promos
Promos do vary, but when we looked they had these:
Bonus Points: When you sign up, you will automatically receive 1000 Bonus Points. You can then earn Bonus Points simply by using the site, for each tournament you win, making suggestions, and more. You can use Bonus Points to play games, or redeem for cool prizes like an X-BOX, PS2 or Digital Camera,  or to enter the weekly drawing for prize giveaways.
Premier Pass Bonuses:  This is Monthly and Yearly subscription package.  (When we last looked Monthly Premier Pass cost $9.99 per month, and One Year Premier Pass cost $100.00) Buy one of these and you get 500 Bonus Points each month and 5% more winnings.
Refer a friend: refer your friends and earn $5.00 Game Credit when they upgrade their account to Paid Player.
Suggestions: Send in suggestions. If they use it, you can earn 250-500 Bonus Points.
Management & Customer Services
Game Bonus is a privately held company located in New York.
Customer support is via email.
Money & Banking
Game Bonus operates in US Dollars.
They accept MasterCard, Visa and PayPal for deposit payments.Game Bonus operates in US Dollars.