Summary – Mahjong Time
Mahjong Time is the biggest and best multi-player Mahjong site online! They offer state-of-the-art, live Mahjong games and tournaments with a variety of rules. Friendly international community where players compete live for FREE, or to win cash and prizes. Available 24/7. No download required.
Note: Mahjong Time does not accept cash players from some US states.
Mahjong Games at MahjongTime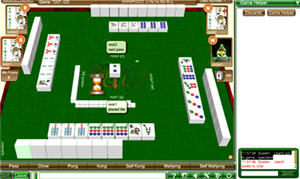 You can play for fun (no cash & prizes) for FREE or you can pay to participate in tournaments and win cash and prizes!
Multi-player gaming
Chat and play with people from around the world.
Choose who you play against.
You can create a game and challenge others, or join an open game.
Players get ratings depending on their results.
Tournaments & League
Hosted Tournaments: Mahjong Time host number of tournaments daily that award Cash and Prizes to the winners. Entry fees starting at $1.00 Players can win prizes starting at $3.20 and increasing depending on their entry fee and the number of players who enter a tournament. MahjongTime puts 5% towards the JackPot.
"Sit-and-Go" Tournaments: They are free to join. Winners earn Tournament Reward Points that can be converted into cash.
Mini Tournaments – create your own tournament and decide the entry fees. The winner will win the entry fees minus a small portion as our fee in exchange of providing the platform.
League tournaments – exclusive to league members.
Mahjong Game Versions
At Mahjong Time there are games playing under various rule sets.
Choose from Hong Kong, Chinese official, Japanese and American versions of Mahjong.
Our Mahjong Game Enjoyment Factor Rating:
Software & Website Features
Mahjong Time is an English or Chinese language site which runs with US Dollars.
Mahjong Time uses proprietary software, with fantastic user-friendly player features and gorgeous graphics.
No download is required.
Easy-to-use lobby & menus.
Big, clear game tables.
They are frequently upgrading the software, ensuring it's the best available.
Chat and community features:
Mahjong Time has a friendly community atmosphere.
Mahjong Messenger, allows players to communicate easily. Includes private message facility. Players can chat with one another in the lobby and during the game.
Upload pictures and create your profile.
Blogs section on the website keeps you informed and involves players in designing the site.
There's a well designed animated tutorial to help you get started and learn how to play.
Our Software & Website Quality Rating:
Mahjong Time Bonuses & Promos
Promos vary, but when we looked they had these running:
Sign up and you get 30 Free Game Credits that can be used to play & sharpen your skills.
100% First Deposit Bonus: When you first deposit $20 into your account, they add another $20 into your account for FREE!
Earn Reward Points in League Tournament. Enter a FreeRoll Tournament and as a league member, you will earn Reward Points that can be redeemed for cash & prizes.
Our Bonus & Promos Rating:
Management & Customer Services
MahjongTime was founded in late 2004, and launched May 2005.
HQ in San Diego, CA USA
Live help in the games suite or via email.
Or there are detailed help files online.
MahjongTime.com provides a secure, online multi-player environment.
Our Customer Service Rating:
Money & Banking
The site runs in US$
Deposit using MasterCard, PayPal and Visa.
Our 'Mahjong Time' Overall Rating:
If you're new here, you may want to subscribe to my RSS feed. Thanks for visiting!
Give your own rating:
Other players rated this casino:
Click a star to add your own rating.