Summary – Mahjong Club
Mahjong Club was completely re-launched on new Mahjong Logic software in December 2009. They have multi-player Mahjong games and tournaments, with chat facility. Choice of Single hand, Full Game and Multitable tournaments for Riichi, Traditional and Classic rules. Players can enjoy free or cash games. Big welcome bonus on your first deposit.
NB Note: Mahjong Club does not accept cash players from the US.

Go check out this top rated game site. Visit Mahjong Club now
Mahjong Games at Mahjong Club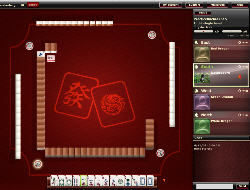 Single hand, Full Game and Multi-table tournaments for Riichi, Traditional and Classic rules
In single hand games, the goal is to form a valid mahjong hand as quickly as possible.
Full games include several rounds. The player with the most points at the end takes the cash.
Several Tournaments running daily
Commission
Single hand: 10% of netwin
Full Game: 15% of netwin
Multi table tournament: Fee for each tournament, which is 10% of the buy in up to a buy in of $500, then it becomes a fixed fee.

Now experience the exciting Mahjong at Mahjong Club. Simply click here
Our Mahjong Game Enjoyment Factor Rating:
Software & Website Features
The software is by Mahjong Logic
A download is required
Play free or real money.
The site plays in US Dollars.
The games and chat are in English
Multi-player environment with chat
the website includes game tips, news and blog

Start enjoying this top quality game site now. Go to Mahjong Club
Software & Game Play Quality Rating:
Mahjong Club Bonuses & Promos
Mahjong Club sponsor entries in major land-based tournaments
Welcome bonus: 100% Deposit Bonus. on your first deposit, up to $200.

Go take advantage of the latest offers at Mahjong Club
Our Bonus & Promos Rating:
Management & Customer Services
Mahjongclub.com is operated by Mahjong Logic Limited of Stockholm, Sweden
The site holds a gambling licence in Isles of Man
Customer service: Customer support via email. Newsletter keeps you up to date of latest offers.

Now play at this honest and reputable game site. Go to Mahjong Club
Our Customer Service Rating:
Money & Banking
Mahjong Club runs in US$
Transactions by MasterCard, Visa, Neteller, Moneybookers, bank transfer and cheque
Our 'Mahjong Club' Overall Rating:

Go win some games today at Mahjong Club
If you're new here, you may want to subscribe to my RSS feed. Thanks for visiting!
Give your own rating:
Other players rated this casino:
Click a star to add your own rating.