Summary – King.com
King.com is the biggest skill game site online. The site has some amazing community features – check out the avatars!- and is available in 9 languages and 7 currencies. They offer 4 varieties of solitaire Mahjong which are played against other players in a wide range of tournaments.
King.com does not accept players from some US states.

Go check out this top rated game site. Visit King.com now
King.com Mahjong
King.com offer a number of varieties of single player solitaire Mahjong.
You'll find them in the 'Strategy Games' section.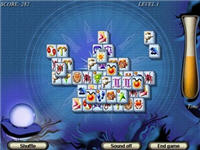 Mahjongg Fortuna
Mahjongg Fortuna is classic Mahjong style puzzle game where your task is to clear all the stacked stones tiles by finding matching pairs before you run out of time. Many different formations to solve based on star signs and beautiful stone tiles with symbolic images.
Mahjong Masquerade
You are the director, and you have an extraordinarily forgetful ensemble of actors. You need to help them find other actors wearing the same masks, but they can only remember two lines. Find an easy path between the actors, and tell them where to go.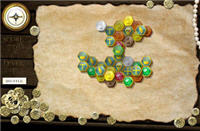 Mahjong Treasure
Mahjong Treasure is a Mahjong puzzler with some subtle innovations. Create perfect or standard matches when you dig through the tiles to reach the treasure. Hexagonal tiles and three levels ensure a challenging and fresh experience.
Midas Mahjong
Midas Mahjong is a classic puzzle using the Chinese Mahjong tiles that are laid out in a pyramid form. Combine two tiles of the same type to clear them away and work your way through the pyramid. Only the master has the concentration needed to clear all the tiles in time.

Now experience the exciting Mahjong at King.com. Simply click here
Our Mahjong Game Enjoyment Factor Rating:
Casino Software & Website Features
King.com use their own proprietary software, which does not require a download.
They offer a wide range of strategy, puzzle, action, word and sports games.
They also have some lottery type games such as Bingo, which are available only to 'Royal Members'.
There are assorted free and cash tournaments on all the games. Check out the details on different types of membership.
Supported Languages: Danish, Dutch, English, French, German, Italian, Polish, Spanish and Swedish
Tournament Play
To play at King.com you always have to enter in a tournament where you compete against other real players.
Tournaments have different entry costs, and a range of free tournaments are also available.
The winner of a tournament is the player with the highest score.
Entry to some tournaments close at a given time and others close when a certain number of participants have joined.
Prizes can be cash and/or bonus points ('Jewels') depending on your player status.
The prizes are a mix of fixed pots and progressive prizes.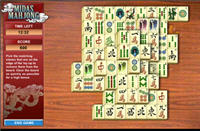 Community Features
King.com has a unique ranking system that ensures that you compete against players of a similar skill level to your own. This means that you have a good chance of winning tournaments even if you are a beginner.
Design your own avatar, with a mind boggling range of variables!
player chat and messaging
you can send 'Challenges' to other players and keep a record of your 'Friends and Enemies'
news blog on the website
member profiles
player leagues

Start enjoying this top quality game site now. Go to King.com
Our Software & Website Quality Rating:
King.com Bonuses & Promos
Bonuses vary but when we looked they had these:
First deposit bonuses:

Deposit 10.00 and get 15.00
Deposit 20.00 and get 30.00
Deposit 30.00 and get 45.00

First Royal Member deposit bonus: Fund your account and we will match your deposit by up to 200%
Refer a friend: For each friend that signs they give you 100 Jewels.


Go take advantage of the latest offers at King.com
Our Bonus & Promos Rating:
Management & Customer Services
Launched in August 2003, the King.com site is now available in 9 languages and 7 currencies.
Every month, King.com hosts more than 40 million games played for millions of players from more than 50 countries
Players take part in tournaments where skill is decisive in determining the outcome. The players back themselves to win with small stakes, and the winner takes the pot. We charge a small administration fee for hosting the game.
Because skill games are not games of chance (or 'gambling'), King.com is legal and does not require a license in most European territories, the majority of the United States and many other territories.
King.com is a private company based in the United Kingdom with a development campus in Stockholm, Sweden.
King.com is licensed in United Kingdom.
It is owned by London based Midasplayer.com Limited.
Customer support is via online query form or email.

Now play at this honest and reputable game site. Go to King.com
Our Customer Service Rating:
Money & Banking
Currencies Accepted: Euros, Pounds, Swedish Kronor and US Dollars
You can deposit using the following payment means: American Express, Diners, JCB, MasterCard, PayPal, Visa, Visa Delta and Visa Electron
Our 'King.com' Overall Rating:

Go win some games today at King.com
[tags]mahjong, casino, gambling, mahjong review, king.com[/tags]
If you're new here, you may want to subscribe to my RSS feed. Thanks for visiting!
Give your own rating:
Other players rated this casino:
Click a star to add your own rating.